---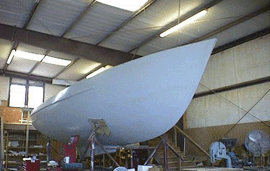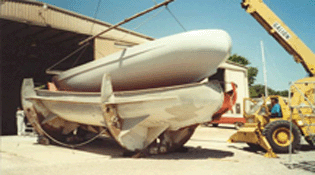 Valiant Yachts are solid one-piece fiberglass hand-laid hulls, utilizing isophthalic resin and gel coat.
Why isophthalic? Isophthalic acid is used to manufacture the resin and gelcoat. Using isophthalic products is important, because over the years it has proven to be less permeable than other fiberglass resins.

Why hand-laid fiberglass? The process of hand-laying fiberglass ensures that the fiberglass material is properly saturated with resin during the lay-up process. The resin is hand-mixed in one-gallon increments with a dyed catalyst to ensure proper wet-out technique. The dyed catalyzed resin allows the lay-up specialist to better see and remove trapped air during this process thereby reducing the likelihood of voids in the laminate.
The Valiant hull is hand-laid using alternate layers of mat and woven roving to create a one-piece solid hull. The solid hull, as opposed to a cored hull, provides the strongest protection against floating objects, like containers lurking just below the surface. The Valiant 50 hull thickness at the keel sump is 1-3/4 inch solid fiberglass laminate.

Valiant hulls are built using the best materials, with proven construction techniques which is why every Valiant comes with a lifetime transferable hull warranty.