Valiant 40

Valiant 40 owners love their boats with an almost religious fervor. That's not surprising, considering that the Valiant 40 gives them an irresistible combination of endearing characteristics summed up in the term it introduced to the sailing world 24 years ago: Performance Cruiser.

Designed in 1973 by a youthful Bob Perry, the Valiant offered something most cruising boats just didn't have then-the ability to sail fast. The skeg-hung rudder and modified fin keel give the double-ended hull a level of quickness and maneuverability unheard of in the cruising boats of the time. This combined with a comfortable cruising interior and an exceptionally strong hull, made the Valiant 40 a veritable sailing phenomenon.

The boat was originally built by Uniflite in Bellingham, Washington. When the firm went out of business, Rich Worstell, a successful Valiant dealer, took over production. With a commitment to never compromising the boat's renowned integrity, Worstell built a loyalty among owners that has moved more than one observer to refer to them as the "Valiant family." Worstell went on to build larger and smaller Valiants, and today his plant in Gordonville, Texas, is busy turning out Valiant 42s, a Perry-designed evolution of the 40. The Valiant 40, however, remains the benchmark.

Exactly 200 Valiant 40s were built before the boat went out of production in 1992. Today there is a permanent waiting list for used models. Would-be owners can expect a long wait. A survey done by Worstell showed that half of the 40s built are still sailed by their original owners, many of whom are live-aboards.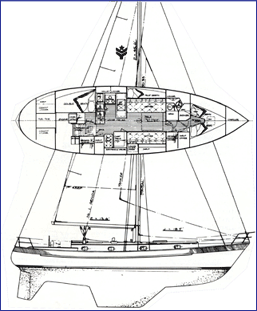 The outsized appeal of the Valiant 40 once earned it the label of "cult boat" in some circles, but that did a disservice to the fact that much of the boat's popularity derives from its remarkable achievements under sail. It has been the boat of choice for a number of circumnavigators and has recorded finishes at the top of fleets in some of the world's most challenging races, including the Single-handed Transatlantic and the BOC Challenge. In the Valiant 40 Resourceful in l983, Mark Schrader set the record for the fastest circumnavigation, becoming the first American to sail around the world via the five capes.

Of all the bragging rights that go with Valiant 40 ownership, one of the most impressive, according to Worstell, is that no Valiant 40 has suffered a disabling failure. "Failure" is certainly not a word to use in connection with this boat, whose success began with innovation and continues with enduring excellence.

- Erin L. Schanen, SAILING Magazine