Serious cruisers who sail the oceans of the world, choose Valiant!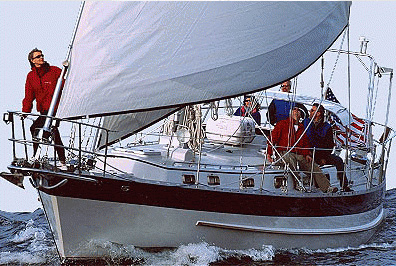 Performance Cruising Yacht
What began as a simple theory over thirty years ago, is now the standard by which all other cruising yachts are measured. In fact, the name Valiant is synonymous with world class performance yachts. No wonder awards have been bestowed time and time again, including the induction of the Valiant 40 into the prestigious "American Sailboat Hall of Fame."
Serious cruisers who sail the oceans of the world, choose Valiant!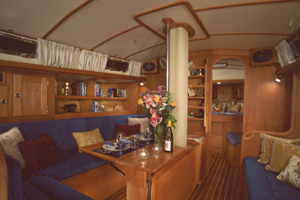 Today, with non-stop production spanning three decades, Valiant Yachts is producing the evolutionary successors to the original design...the Valiant 42 and the Valiant 50. These new Valiants incorporate the same proven offshore hull form with a structural skeg mounted rudder and a state of the art keelfoil. This powerful combination ensures excellent control and tracking on and off the wind. The external, bolted-on lead ballast
provides excellent defense against accidental grounding, while it also allows for a low stablizing center of gravity which optimizes performance and safety.
Since all Valiants are designed and built for the real world of offshore liveaboard cruising, one of the critical factors for safety is a strong hull, one that will provide maximum strength and impact resistance. To ensure each and every Valiant meets this criteria, all Valiant hulls are hand-laid fiberglass in a solid matrix of alternating layers of woven roving and mat. The isopthalic resin is hand mixed and catalyzed in one gallon increments with a catalyst/resin mixture dyed to achieve the proper wet out technique. This same technique is used for all fiberglass components in Valiants.
Over the years, every Valiant has been built to order on a semi-custom basis, and the new Valiants are no exception. However, the Valiant in-house design team has gone one better with an innovative deck system that adds a totally new dimension by eliminating any predetermined locations for port lights, hatches or companionway. What this means is the customer is free to select from an almost unlimited choice of interior and exterior arrangements.
Serious cruisers who sail the oceans of the world, choose Valiant!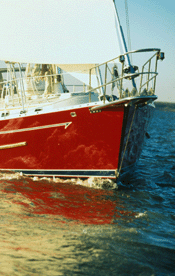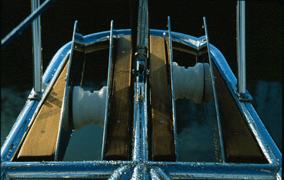 Valiant's custom fabricated mast rig with anchor/bowsprit provide a maximum sail area and excellent helm balance. All Valiant spars are keel stepped to ensure maximum strength. These combinations give each Valiant plenty of sail power while keeping things simple enough for a couple to manage and maintain, even under strenuous conditions. A full complement of oversize self-tailing offshore winches make it possible for even the smallest member of the crew to trim the sails.

Another important Valiant engineering feat is the attention to detail and maintenance. Each and every system and component is engineered to be easily maintained and serviced. Access to tanks, pumps and the engine is readily available and removable if necessary. All plumbing and electrical systems meet or exceed marine industry standards. Through hulls below the waterline are bronze/stainless ball valves with easy access for operation. All Valiants are entirely electrically bonded and grounded.
The new Valiant could only have been developed by a company whose customers have the experience of cruising and racing millions of miles in virtually all the oceans of the world and in all possible weather conditions. The result is a new Valiant that offers the ultimate combination of strength, stability, performance, safety, and comfort, earning Valiant Yachts the reputation as the world's most desirable cruising yacht!